Boxheart's 'Art Inter/National' builds a strong reputation
'Art Inter/National'
What: Seventh annual international group exhibition featuring works by 20 artists from 15 countries
When: Through Feb. 2. 11 a.m.-6 p.m. Tuesdays, 10 a.m.-6 p.m. Wednesdays-Saturdays, 1-5 p.m. Sundays
Where: BoxHeart Expressions, 4523 Liberty Ave., Bloomfield
Details: 412-687-8858
Photos
click to enlarge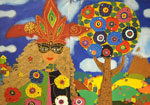 'Italian Carnival'
Christopher Horner/Tribune-Review
click to enlarge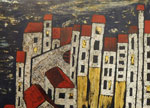 'Houses Beside the River'
Christopher Horner/Tribune-Review
click to enlarge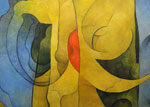 'Abstract V'
Christopher Horner/Tribune-Review
About the writer
Kurt Shaw is the Pittsburgh Tribune-Review art critic and can be reached via e-mail.
Ways to get us
Now in its seventh year, the annual "Art Inter/National: Here and Abroad" exhibition at BoxHeart Expressions gallery in Bloomfield is gaining momentum as a very succinct and professionally produced theme show.
This year's iteration represents 20 distinct artists from around the globe. Each represents different media and interpretations of the exhibition's theme, which is, and always has been, how the immediate environment of each individual artist impacts his artistic process and influences what he creates.
Heading an international call to participate posted by the gallery on several international Web sites, the artists who participate in the "Art Inter/National" exhibition as well as vie for the best-of-show nomination are recognized for making art for different reasons and from different perspectives and experiences.
BoxHeart's owners, Nicole Capozzi and Joshua Hogan, look closely for works that convey evidence of personal creative explorations and artistic commitment that directly relate to the purpose of the exhibition.
Capozzi says a large part of determining the artist's commitment to the exhibition's theme rests solely on his or her ability to convey this evidence through the artist statement. "Whether they are here in the United States or somewhere else, they should be talking about the commonality of how they create work, why they do and especially how what they do relates to their environment: how it affects what they do, or maybe how the dream of the environment they want to be in affects what they do.
"The theme has always been the same," Capozzi says. "We try to pick art that represents that theme in as many different ways as possible, and as many different styles, media and countries as possible."
The execution of the artwork -- as related to the artist's intention -- is then considered. The depth to which an artist's work reflects and enhances his vision determines a best-of-show nomination, with the best-of-show winner being awarded a solo exhibition that follows the next "Art Inter/National" exhibition. Next month, visitors to the gallery will find etchings and lithographs by Russian artist Victoria Goro-Rapoport, last year's winner, on display from Feb. 5 through March 1.
This year's winner is Massachusetts artist Erin Treacy, who is represented here by two abstract paintings. Made of mixed media on paper, they are the result of obsessing over details and patterns found in nature. Organic abstractions, they are created through layers of mark-making and a buildup of textures.
Two works by first-place winner Xuan Anh Nguyen of Vietnam hang opposite. Large-scale pieces made of lacquer on wood, Nguyen's "Houses by the Side of the River" and "Urbanization" explore a changing Vietnam, from ancient, sacred structures to high buildings. The traditional mixes with the modern, creating a new definition of Vietnamese society, represented here in glittering high-rises.
Other large-scale works include two works from Ohio artist JT Thompson's "Abstraction" series. Both paintings deal with simplistic movements based on the composition by his exact placement of line, color and shape. Thompson directs the eye of the viewer around each work, as in "Abstract V," in which the small, red patch in the middle of the painting represents the focal point, surrounded by yellow shapes and cool hues.
Other works are more lighthearted and fun, such as "Italian Carnival" by Maria Andrade, a professional graphic designer living and working in Moscow. Here the artist's thoughts related to an internal world are fleshed out in simple, decorative elements that have almost a folk-art feel. Capozzi says the artist claims she has never been to Italy, so the colorful carnival scene is only an imaginary one.
Two small seascapes by Mike Bell of England are a direct response to his environment.
Inspired by 30 years' living and working on the Northumberland Coast, Bell's paintings stimulate a wide range of perceptions and feeling for these wild areas. He goes so far as to include a wide range of natural materials he finds on location, including sand, grit, coal dust, driftwood, foils and tissue. Looking closely at his painting "Druridge Bay, Rain Storms," one is likely to find nearly all of the above.
From seashore to city street, visitors likely will be surprised when they get closer to the two abstract triptychs on display by Illinois artist Lynda Glyman. From her "The Field" series, the pieces from a distance look like minimalist abstract compositions in red and black. But upon close inspection, one will see that the fields are comprised of a sea of tiny faces. Thus exploring the "transience and randomness of the urban experience," according to the artist.
There is little by way of photography. But of what there is is very good. Perennial favorite Reinhardt Sobye of Norway, whose work has been included in the past three iterations of this exhibition, shows two hand-embellished digital prints -- "Muerta I" and "Muerta II" -- that each feature a wild horse native to the remote region of the country where Sobye lives.
And in his own way, Swedish artist Peter Wiklund attempts to address the interaction between one's inner and outer landscapes in his photography with the three-part series "Crouch," "Front" and "Back." Arranged one above the other, the three black-and-white photo montages are Wiklund's interpretation of his environment in Upplands Vasby, Sweden -- not just his physical environment, but also the mental state of well being that plays a major role in impacting one's life. This is evidenced by the fact that he chose to distort his subject -- which is himself, nude -- in an attempt to emphasize his own "environmental struggle," as he writes in his statement.
Finally, South Korean artist JinMan Jo's piece "Exclamation I" is worth noting for its shear size and weight. Made of wood and steel, this huge and heavy abstract work cost a bundle to ship from Korea, but it's a worthy addition that helps flesh out the international scope of this exhibition that, in its own way, is beginning to rival the "Carnegie International."
Carnegie Museum of Art curators, take note!


Subscribe to the Tribune-Review today